Voxel Factory celebrates its 10th anniversary!
The FIRST sale of Voxel Factory was on April 30th 2012. After many 3D printer assembly workshops, a partnership with Pierre Giguère in 2016, the start of in-store filament production, a new branch in Vancouver and the installation of our new offices in Saint-Hubert, Voxel Factory, as a 3D printer does, was built slowly but surely, line by line, layer by layer, to finally become the solid company of today.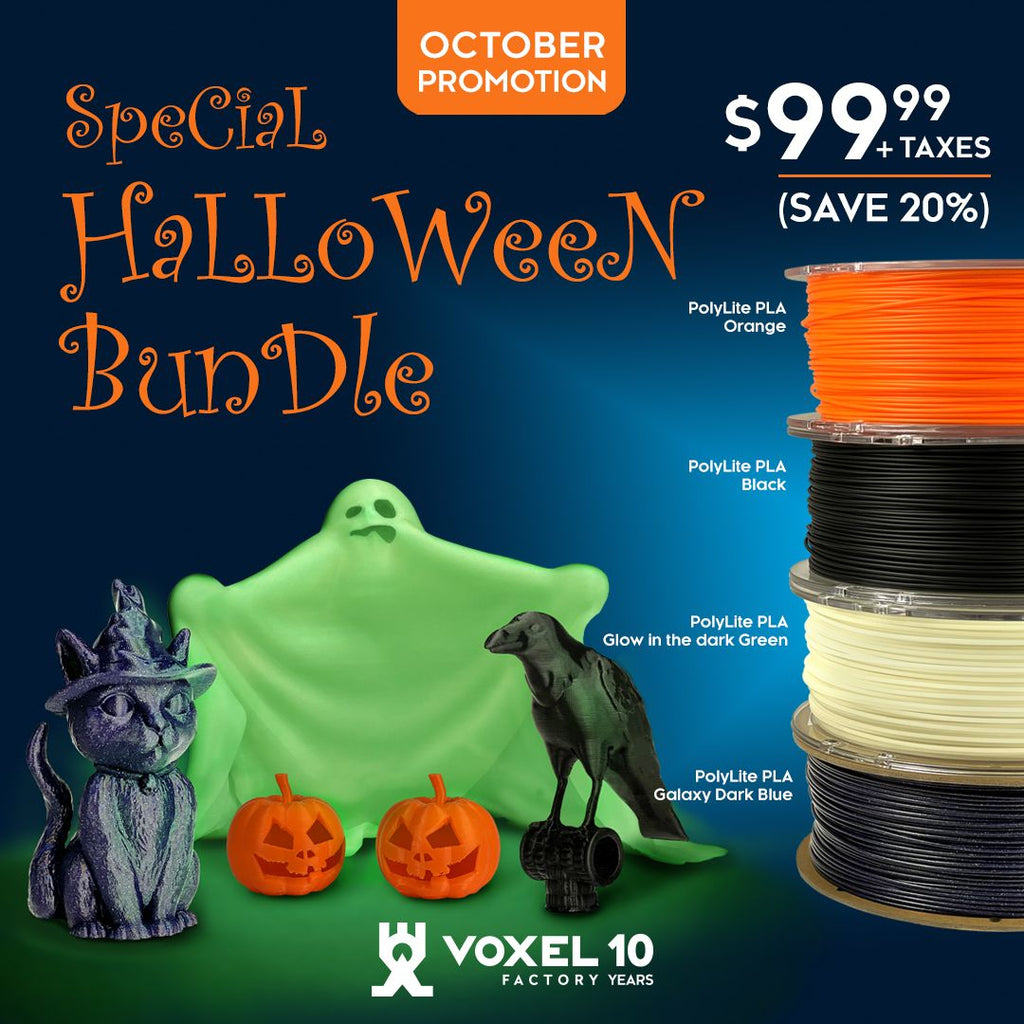 We celebrate
EVERY month !
---
To celebrate in great style, Voxel Factory has decided to offer you a different promotion EVERY month until April 2023!
October promotion : Special HALLOWEEN BUNDLE!
October promotion: Bundle available until October 31st 23:59.
With us, it's
ALWAYS MORE
---

At Voxel Factory, our services are distinguished by the efforts we make to offer you more:
2 branches to better serve you

2 warehouses strategically established to offer you a faster delivery at home
Open 7 days a week to be more accessible for you
We don't just sell you filament, we produce it ourselves with our in-store extrusion line.
We don't just sell 3D printers, we operate and repair them.
We offer FFF, SLA & SLS print services for both individuals and professionals.
Our services are offered in French and English.
We offer several options for your purchases: Online & In-Store Shopping, Home Delivery & In-Store Pickup.
At Voxel Factory, our experts always strive to offer you a quality service and to acquire the necessary knowledge and experience in the field of 3D printing.
That is what makes the Voxel experience at 110%.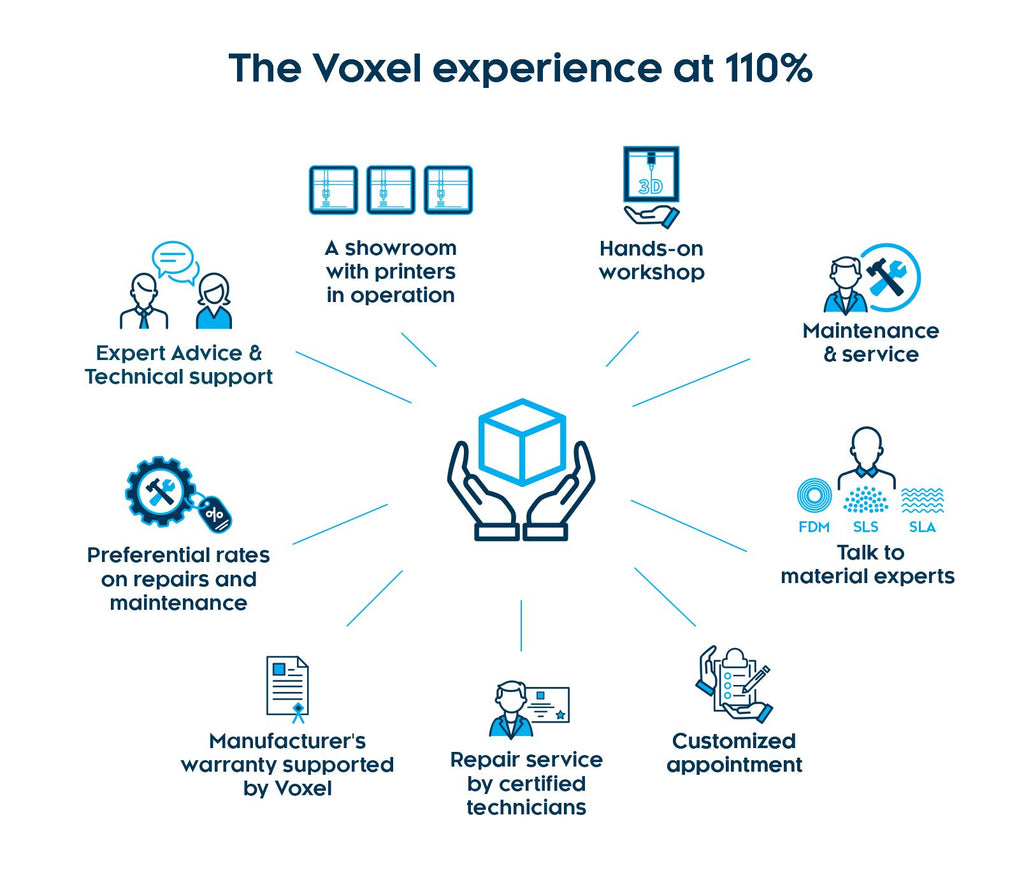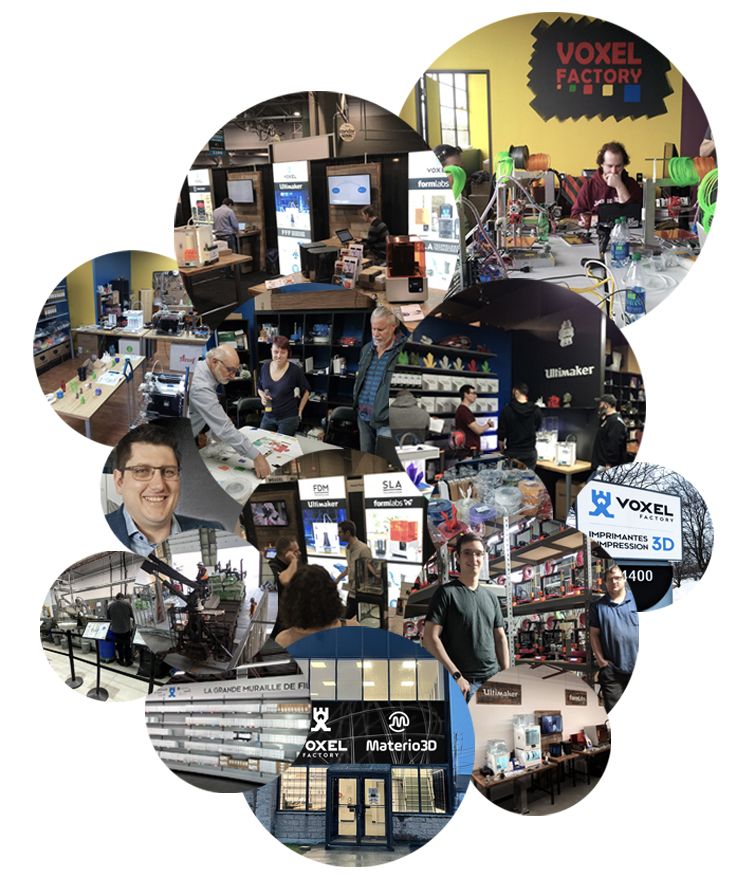 From a Voxel particule to Canada's 3D reference
---
With only $2000 borrowed, François launched himself in 2012 into the world of 3D printing by importing filaments and reselling them at competitive prices in Canada. Being the second existing reseller across the country and the first online 3D printing store, the demand was imminent.
Voxel Factory started by selling imported products, mainly from China, and by helping people build their own 3D printer over a weekend.
Slowly but surely, Voxel Factory has grown into a strong team of experts offering FFF, SLA and SLS 3D printers ranging from $1,000 to $100,000 to individuals, institutions and industries.
It is with time, motivation and a lot of perseverance that Voxel Factory became Canada's 3D reference.